Refugees from all over Europe united-RISE meeting!
RISE -Refugees' Ideas and Solutions for Europe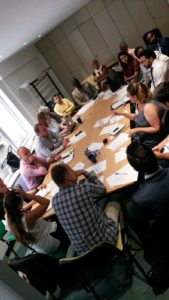 During August the Greek Forum of Refugees (GFR), founder and coordinator of the RISE Network with the support of the European Council on Refugees and Exiles (ECRE) identified national contact points in different European countries based on existing networks. All the potential national network members showed great interest in creating a Europe-wide network of refugees' and migrants' communities. On the
12th of September 2016
the
RISE
team held the first Steering Committee in Brussels. Around 15 representatives of different refugee and migrant organisations of several European countries (Norway, Sweden, Ireland, Spain, Belgium, Italy, Austria, Hungary, UK, Malta and Greece) were present. The aim of the meeting was to define the methodology to synchronize the consultations and main issues discussed. Lively discussions were held about the main challenges refugees are facing in Europe and different methods that can be applied in order to collect a broad range of different refugees' voices. Several participants mentioned that the idea of a European refugee and migrant network should have been floated earlier and they were very motivated and dedicated to join and contribute to the network. Consequently the discussions and exchanges between the national network members were very fruitful, inspiring and all participants were very eager to share their ideas on how to approach refugee communities.
During the months of September and October the network members (operating as national contact points) will have time to identify appropriate strategies to approach and mobilize refugee and migrant communities in their countries in order to gather the needed information. In mid-November the first network workshop will be held in Athens, where the network members can exchange their experience and challenges, which they faced while consulting refugee communities. The Rise project just started and promise great exchanged in between communities all over Europe and as it has been fairly said "they cannot talk about us and decide for our future without us".
"The project RISE is part of Advocate Europe, the European idea challenge by MitOst in cooperation with Liquid Democracy, funded by Stiftung Mercator"