Through research conducted in the field, a significant gap was observed in the training of mediators, especially in matters of mental health.
During the period 2015 – 2019, Greece was a host country for increased refugee flows compared to previous years, having as a result for stakeholders and civil society organizations to make great efforts to train mediators/interpreters in order to meet the needs that emerged.
This training was based on a fast and immediate process, as a result of which the mediators did not receive all the necessary training and tools for an effective and substantial mediation.
The Effective & Respectful MEntal Health Support (ERMES) project of the Greek Forum of Refugees managed to train a significant number of mediators and the results were extremely satisfactory.
This led us to the decision to continue with this training as there are still many needs to address in the field.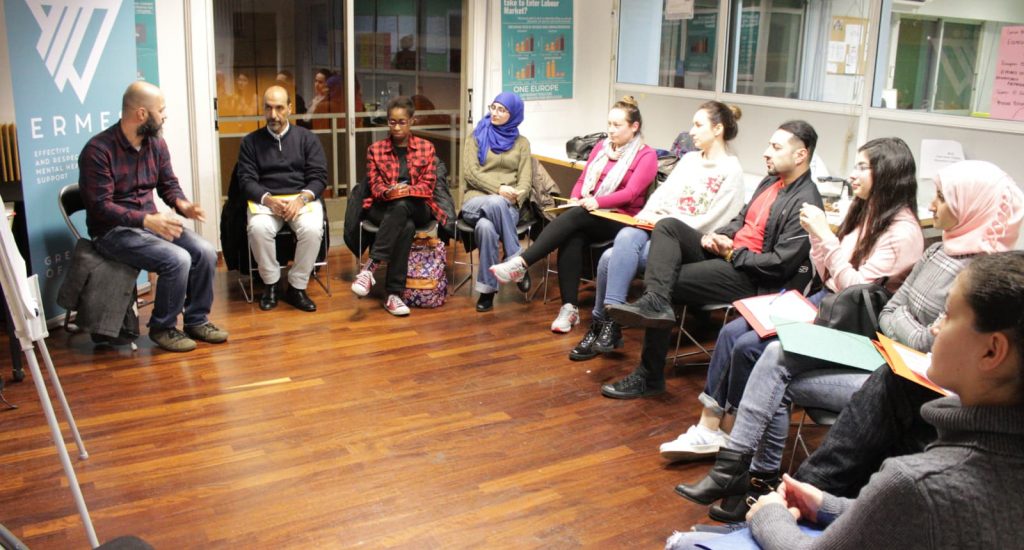 Thus, the aim of the ERMES II project is, first and foremost, to train mental health mediators/community interpreters who are already working in the field and at the same time to update and develop the existing tools created through ERMES in order to improve mental health services provided to refugees, migrants and asylum seekers. In addition, an important goal is to improve and consolidate the communication with the stakeholders and the social services so as to highlight the importance of these trainings.
The educational activity of the project was based on a program of ten (10) training cycles, where each of them lasted forty (40) hours of training.
At the same time, in terms of the content, the training was based on the toolkit produced by the scientific team who were experts in the field of mental health and community issues. As a result, trainers transferred the content to learning activities based on non-formal and interactive procedures with the aim of improving learning outcomes.
Each training session included specific time for content presentation, interactive activities for better understanding, use of experiential learning tools, daily reflection and evaluation, and the enhanced interaction of participants.
The Scientific Committee worked on the development of the educational material so that the training sessions would provide tools that will allow a deeper understanding of the cultural factor and its importance, technical terms and a dictionary related to the field of mental health, but also a behavioral approach tailored to the needs of refugees in need of mental health care.