9/12/2017: March for the right to freedom and to unite with family We can't take the plane or ship, but we can take to the streets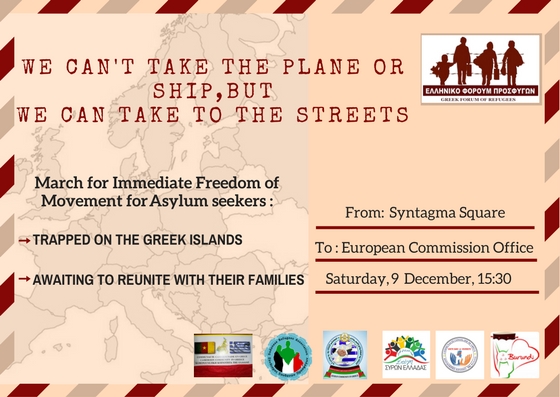 March for the right to freedom and to unite with family
We can't take the plane or ship, but we can take to the streets
We march
for Freedom and Human Rights
to End Trapping Asylum Seekers on the Islands,
to Reunite Families within Europe
We came to Greece to be safe
BUT
None of us is safe trapped on the greek islands.
None of us is safe being blocked far away from our families.
Ports and airports have become places forbidden to us.
Our dignity and rights are being denied to us.
We can no longer accept the situation that has led to tragic consequences with people losing their lives, other compelled to go on hunger strikes or suicide attempts.
Refugee communities are calling on to a march to urge Greek and European Authorities
to take up on their responsibilities
Freedom and Human Rights for all Refugees
End Trapping on the Islands
Respect family reunification procedures.
Join us on Saturday 9th December 2017, at 15.30 at Syntagma Square. The March will head towards the representation of the European Commission in Greece (2 Vas. Sofias, Athens).